Android Applets
DESCRIPTION
The mechanical planetary watch wallpaper, in correspondence to basis of the prototype, as watch movement on your Android screen!
The reverse design with visualization of physical engagements and artificial self-winding mechanism for mainspring. Note, in back side the watch runs in opposite direction.
THE POSSIBILITIES (look on the features picture)
Skeleton with reverse modes;
Concentric from outside to inside orbits:
Second's hand and satellites movement with spin lobes indication;
Minute satellites movement with spin lobes indication;
Hour satellites movement with spin lobes indication;
Weekday satellites movement with spin lobes indication;
Barrel spring winding stage indicates the current energy storage of its, after the full unwinding of the barrel spring the watch will stop until half turn of the weight sector, which run.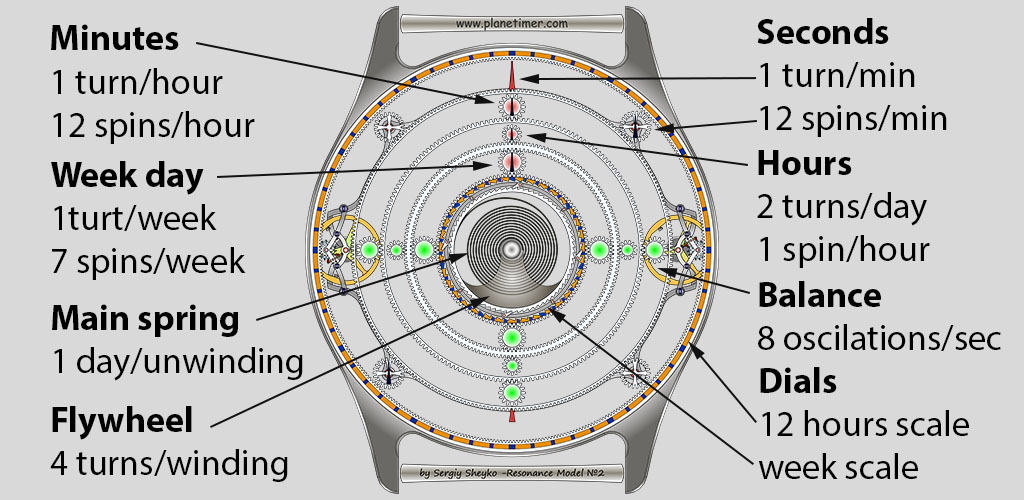 CUSTOMIZATION
Fully colors, speed of the balances oscillations, scale and relative position on the screen.
HINTS
Double click on any setting value sets it to the default.
Not install-over, just find in the application list.
Please, be patient in redrawing by installing and settings. The vector graphics needs the time for rendering during repainting!
Study the attached tutorial video.
Any propositions are welcome!
FULL VERSION PARTICULARITIES
- No advertisements;
- Perpetual settings mode;
- No Demonstration Tester inscriptions;
- The FULL version is optimized.
REQUIREENTS
The minimal Android version: 4.0.2
The gyroscope device possibility is needed for winding and balance movement simulation.